Crossing the PK12 and Higher Education Divide: Bridge to Practice Partnership Improves Literacy Instruction and Outcomes for All Children
---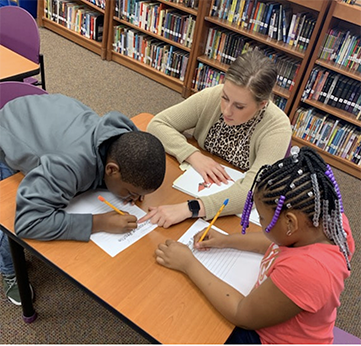 The Youngstown City School District (YCSD) and the Youngstown State University (YSU) have a long history of partnering to improve preservice teacher education candidates' and practicing teachers' capacity to meet student instructional needs. YSU is centrally located in the city of Youngstown with all 14 schools in the district situated within five miles of the university. YCSD serves about 4,750 students in kindergarten through 12th grade. All students (i.e., 100%) in the district - referred to as scholars - are classified by the state as economically disadvantaged. A little over half are Black, about a quarter are Hispanic, and close to 18% are identified as students with a disability.
Collaborative efforts between YCSD and YSU have taken various forms over the years, according to Dr. Mary Lou DiPillo, recently retired as Associate Dean of YSU's Beeghly College of Liberal Arts, Social Sciences, and Education. "Our commitment to work with the district ranged from making sure that our teacher candidates did at least one student teaching experience in Youngstown City before going to a suburban or rural placement, to teaching within the school site. So the students would meet in the schools and the faculty would go out and actually teach their methods courses in the schools, and our teacher candidates would go into the classrooms," explained DiPillo.
Building the Bridge
In November 2014, YSU worked with YCSD to establish Project PASS (Penguin Assistants for Student Success), a tutoring program through which YSU teacher education and non-education candidates provided literacy tutoring services to children in YCSD schools. Originally funded through a 21st Century Reading Grant, the program is sustained through funding from the district and the university in equal parts (about $125,000 each).
Development of the program, which happened very quickly, started with meetings between district representatives and reading faculty at YSU. By February of 2015, 400 tutors were working in selected YCSD buildings, assigned to children in second and third grade, with the intent of helping them pass state assessment. Tutors were required to complete 30 hours of clinical/field work per semester and were initially paid $1,000 toward tuition costs when their assigned scholar passed the test. The clinical/field hour component associated with reading coursework, previously non-existent, meant candidates had to meet an additional requirement; payment to tutors was a way to incentivize participation.
However, YSU learned early that passage on state assessment didn't necessarily equate to tutor effort and follow-through. For example, a tutor that gave minimal effort but was assigned to a student who performed at higher levels received payment when another tutor who worked hard in supporting a student who didn't pass the assessment did not receive payment. Additional issues (e.g, tutors attending YSU on full academic or athletic scholarships weren't permitted to accept additional payment) resulted in the elimination of payment to tutors.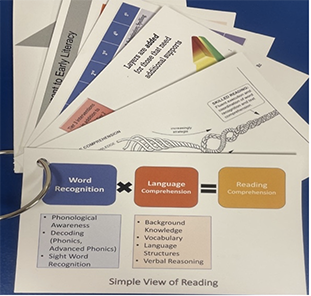 Fast forward to 2022. Between 300 and 400 tutors per semester are involved in the program and all are teacher education candidates. Teacher education candidates are required to complete 20-25 hours of clinical/field experience per semester with each candidate serving as a tutor two times per week in one of six K5 YCSD elementary schools. Children in grades 2 through 5 are selected by YCSD teachers who elect to participate in the program.
The field experience requirement to serve as a tutor is built into the four required reading courses with each tutor assigned to tutor two children (the same two children) in one YCSD school building. The assignment of two scholars to each tutor makes it much more likely that the tutor has a child to tutor on designated tutoring days (i.e., if one is out due to illness/other reasons, the tutor can work with their other assigned scholar).
At the time the program was started, neither YSU nor YCSD used reading approaches aligned with the science of reading (SoR). YSU faculty were trained to use other approaches (e.g., balanced literacy). Initially, tutoring was designed to support whatever was happening in the classroom.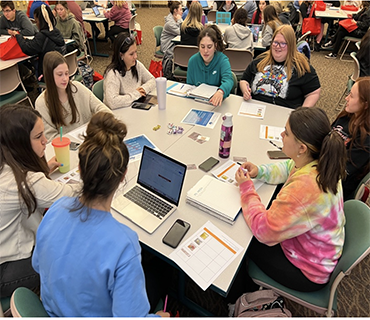 Now all instruction at the district and university level is aligned with SoR. At the university level, core reading courses have been revised/redesigned through the Compact-funded Improving Literacy Partnership Incentive Grant program and are grounded in SoR. All professional learning provided to YCSD and YSU is aligned with SoR and continues to be provided by Ohio Literacy Lead Michelle Elia; Denise Malkovits, SST 5 Regional Early Learning Specialist (RELS); and Dr. Marlo Miller, SST 5 Urban Literacy Specialist; and YSU faculty trained in using evidence-based literacy practices aligned with SoR.
Professional development (PD) sessions also take place outside of the required coursework that all teacher education candidates take (e.g., in evening sessions). Candidates are also taught to deliver content in ways that maximize student engagement, involve actual reading, and are "hands-on." YSU has made numerous materials aligned with SoR available to teacher education candidates through its curriculum resource center and found that providing these materials to candidates serving as tutors in lieu of payment for children's passage on state assessment is a good way to incentivize teacher candidate participation in Project PASS.
"We're working hard to develop and promote opportunities for students to be effective teachers," said Kristen Italiano, Director of Project PASS. Italiano manages the program and is supported by three graduate assistants (GAs), each assigned to two schools and each working between 20 and 25 hours per week. Each GA oversees one of the four required core reading courses and together share responsibility for one of the courses. GAs serve as the main point of contact for their assigned course and handle scheduling, student questions, site observations, work with teachers in the district, and more. Currently, the GAs are candidates in YSU's school psychology program, extending learning in structured, evidence-based literacy practices to future school psychologists.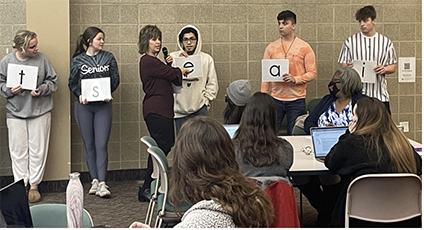 Unanticipated benefits. An early challenge involved the reluctance of some teacher education candidates to go into the city's schools. YSU even received calls from parents of some candidates asking if it was safe for their son/daughter to participate. The exposure to children in urban settings that the program provided served to increase their comfort level and several of the candidates that served as tutors are now working as teachers in the district.
Another goal of the program was to establish connections with the children tutored; for some, the relationship with their tutor was important to their well-being and was ongoing with tutors assigned to the same child over multiple semesters. Similarly, many teacher education candidates serving as tutors in Project PASS gained greater confidence in working with children, particularly those with learning challenges, as exemplified by one tutor who wrote:
This experience also showed me that I am going into the right profession. I loved getting to know my student and helping him become a stronger reader. I really enjoyed planning the lessons. My student and I had similar interests and it was a great experience getting feedback on lessons and ideas from a child. Most of the time, I present lessons to my college peers or professors. The way children react to these lessons is often very different. This experience reassured me that I am capable of planning lessons and activities that students will enjoy and learn from. I would love to continue working with my student and I am extremely thankful for the opportunity to be a part of Project PASS.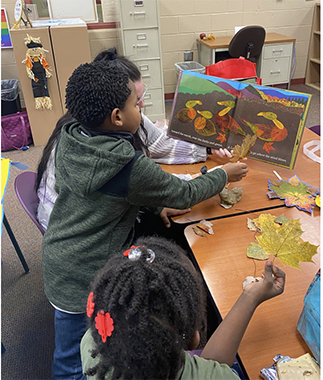 Dr. Katie Cripe, Associate Professor and Chair of YSU's Department of Teacher Education and Leadership Studies, gathered information from teacher education candidates' about their perceptions of working in the city's schools before and after their participation in Project PASS. Cripe found that after participating as tutors, the candidates were less afraid and more willing to work in YCSD. "The students, most of whom do not personally come from urban settings, are a little bit afraid to go there so we purposefully place them in those schools with good teachers so they have good experiences, and the outcomes are wonderful! Many of them now seek jobs in the city's schools and say, 'I never would've thought about even going there before,'" said Cripe.
Jennifer Walker, formerly Curriculum Supervisor for Youngstown City Schools, agreed: "I'd like to say that Project PASS is our biggest recruiting tool because we know that many prospective teachers don't come from Youngstown city schools. They come from suburban and rural districts and may have misconceptions and generalizations about the Youngstown City School District. Many of the Project PASS YSU students return to become teachers in the district and have a stronger foundation for the work we're doing - it's a win-win for everyone." Walker, a National Board Certified Teacher (NBCT) and the 2010 Ohio Teacher of the Year, is now working through the Ohio Department of Education's Office of Approaches to Teaching and Professional Learning as an Adolescent Literacy Specialist. Housed at the ESC of Eastern Ohio (ESCEO), she serves one quadrant of the state, while also supporting the school districts served by ESCEO and SST Region 5.
YCSD's work to improve literacy outcomes involved meticulous planning and attention to aligning the work across levels of the system. The development of the district's Reading Achievement Plan (RAP) involved multiple stakeholders and is part of, not separate from, the district's overall improvement plan. "None of this work is outside the continuous improvement process; it's built into the fabric of how they do business," explained Michele Moore, Director of SST Region 5. Moore was instrumental in the development of the Ohio Improvement Process (OIP) beginning in 2007.
Converging on a Common, Shared Mission
Equity in Ohio
In Each Child, Our Future: Ohio's Strategic Plan for Education (2019-2024), equity means that "each child has access to relevant and challenging academic expericnes and education al resources necessary for successful across race, gender, ethnicity, language, disability, family background, and/or income."
Ohio Department of Education, 2018, p.8
DiPillo reflected on the outcomes of the partnership, stating that what made it different was the intentional collaboration among the university, the district, the regional State Support Team (SST) 5, and the state. "The curriculum was purposefully designed with the city schools and with Ohio's Plan to Raise Literacy Achievement. We had to actually work on curriculum with these partners. We'd never worked with the SSTs before and I feel that adding SST 5 and particularly having one of the literacy leads working with YSU and our teacher candidates, as well as with the city teachers, just strengthened that partnership and really solidified what was going on," said DiPillo.
"We've been intentional in aligning shared resources, including professional development, with the SST. I think that's really an advancement that we're making," said Italiano. Leveraging regional expertise has been instrumental to the success of the program. SST consultants including Miller and Malkovits, along with Elia (also based at SST 5 but serving the state) have worked alongside Italiano, Walker, and other YCSD and YSU faculty. Malkovits and Walker also serve as adjunct faculty at YSU.
"It's exciting to be able to have this dual role; I know where Ohio's heading in terms of the state's literacy plan and I'm able to deliver that instruction to our teacher candidates," shared Malkovits. Having that support from the SSTs, those boots on the ground, has been instrumental in putting everything in place," said Walker.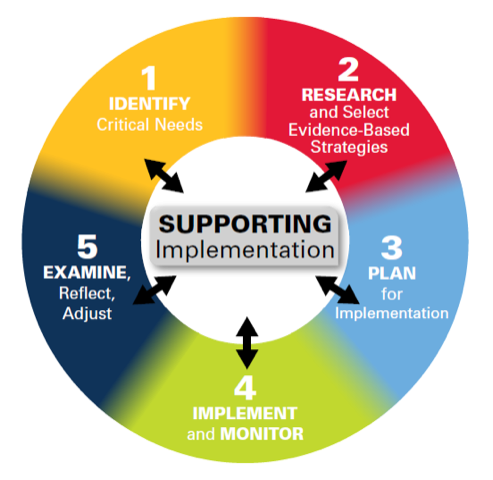 Literacy as the avenue to equity. A commitment to ensuring that every child is provided equitable learning opportunities and outcomes is at the heart of the YCSD-YSU-SST 5 partnership. "For me, literacy is an avenue to equity," said Miller. "The leadership provided by Christine Sawicki and Jennifer Walker exposed children to the best practices, but with the YSU partnership, the students that don't come to Youngstown to teach are taking that knowledge to other schools as well. So that is the most important part of what we're doing. We're changing outcomes for children," she added.
The Ohio Improvement Process (OIP) is Ohio's process for supporting systemwide improvements in adult and student learning. OIP involves five steps, not unlike other plan-do-study-act (PSDA) improvement cycles, but what makes it different is the use of the structured five-step process in concert with aligned collaborative leadership teams at the district (District Leadership Team or DLTs), school (Building Leadership Team or BLTs), and classroom (Teacher-based Teams or TBTs) levels.
The OIP model is built on a commitment to shared leadership. It empowers educators to work together - maximizing collective expertise and experience in meeting the needs of each student - and supports each level of the system (e.g., district, school, teacher teams, classrooms) to build the capacity of other levels of the system).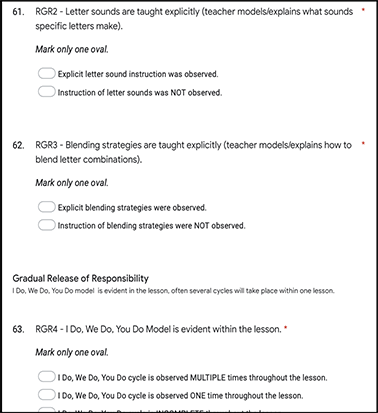 The OIP supports adults in working together to identify their most critical needs related to teaching and learning; identify and select evidence-based strategies; develop a limited set of goals and strategies to address identified needs; implement, and monitor the degree of implementation, of strategies selected; and examine the effectiveness of the strategies implemented on adult practice and student learning.
"The process supports implementation and supports administrators in supporting teachers," said Miller. "We worked to distribute leadership through the OIP and had to be strong in monitoring what buidings were doing and what central office was doing using the look-for tool developed by the team," added Walker.
The YCSD Literacy Walkthrough Tool (see excerpt) was created as a teaching tool for administrators so that feedback aligned with the RAP could be more effectively delivered to teachers. "I think you need common tools; you need that communication piece and our emphasis now really has to be on TBTs because we know it's one thing for our teachers and administrators to understand the science of reading and it's a completely other thing for them to implement it," explained Walker.
In addition to the Literacy Walkthrough Tool, a Decision Rules Flowchart is used to support teachers and TBTs in making better decisions about which strategies to use based on student performance data. Moore explained the use of these tools in helping teams at each level make better instructional decisions: "Looking at adult implementation data as well as student performance data is a big part of the DLT. Jennifer (Walker) was co-facilitator of the DLT and examining the use of evidence-based practices are exactly what happens at the BLT. Marlo's done a great job in supporting teacher use of the Decision Rules at the teacher level and those decision rules can become the engine that drives TBTs."
Fostering a Statewide Community of Practice
"The P20 Literacy Collaborative that's a part of the Ohio Deans Compact has really provided an opportunity for all partners to be at the table at the same time to build relationships," said Moore.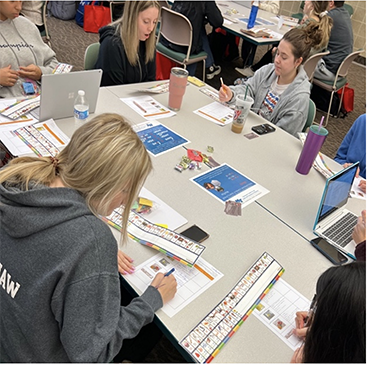 The P20 Literacy Collaborative meets quarterly and operates as a community of practice (CoP) to support authentic, meaningful, and sustainable university-school district partnerships to promote inclusive models of preparation and personnel development for educators (i.e., teachers, intervention specialists, related services providers, and administrators), improve equitable access to high-quality literacy instruction and equitable literacy outcomes for struggling learners, and fund development efforts that support shared inquiry into common problems of practice related to improving literacy results for all learners.
"The P20 meeting I just attended was so inspiring and motivational. To hear what universities are doing across the state of Ohio and how they're preparing their undergrads in structured literacy got me thinking about what more we can do, or what we can do differently at YSU, to better prepare our teacher candidates," shared Malkovits.
P20 participants include representatives from institutions of higher education (IHEs) that have received incentive grants from the Ohio Deans Compact to redesign core reading coursework to align with SoR. As a condition of funding, IHEs must partner with school districts in the redesign and implementation process.
Participation of incentive grant team members, as well as participation of others (i.e., state and regional leaders and representatives from professional associations such as the Ohio Education Association) in the CoP:
Allows for the identification of possible alignments and gaps between preservice preparation and in-district practice with regard to the use of evidence-based early language and literacy instruction;
Fosters shared understanding on the part of higher education and school district faculty of curricular improvement processes and shared ownership of curricula developed through the project beyond individual faculty;
Supports the identification of strategies for "bridging" the preparation to practice continuum (i.e., the transition between what educators are able to do upon leaving preservice programs and what teaching reading to diverse learners asks of them); and
Provides a forum for shared learning and greater mutual understanding and appreciation among representatives from higher education, school districts, regional entities (e.g., SSTs), and other partners.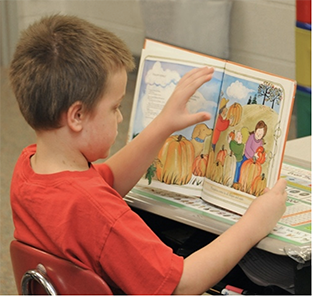 YSU received one of the Improving Literacy Partnership Grants from the Compact. "When we talked about how the reading courses needed redesigned, we actually had folks on the phone from the district central office and the SST and we got down into the weeds to identify what specifically needed to change in these courses so that we were all on the same page," recalled DiPillo. "I can't remember a time when we asked for input that was so specific and that went directly into curriculum design. I really believe that the grant from the Deans Compact allowed this to happen. If we hadn't had the funding, I don't know that we could have moved forward as we did," she added.
Another activity sponsored by the Compact involved providing LETRS professional learning to university-school district teams. Italiano believed that praticipation in the training helped YSU support faculty in learning about evidence-based literacy instruction.
"We had some of our part-time faculty go through LETRS training that was possible because of the P20 initiative. The more we know, supported by the data that it's working, the harder it is to be resistent because we're able to lead with the evidence," she said.
Moving forward despite resistance. DiPillo reflected on the early work to transition reading coursework at YSU to align with SoR: "There's nothing that happens in an IHE that goes smoothly and you're never going to have everybody on the same page. So, we had a decision to make - are we going to gather the people that were on board, or were we not going to go forward because we had naysayers. If you're ever going to move forward, you work with the people who are ready to move forward, or you're never going anywhere, and that's what we did!"
The P20 Literacy Collaborative brings national experts in evidence-based literacy to Ohio to support shared learning about the most up-to-date research in literacy. "The researchers that the P20 brings in, that none of us could bring in alone, exposes us to the greatest minds around literacy. The work being done at the state level, under Melissa Weber-Mayrer's leadership; and the regional and local level through the work of SSTs, districts, and IHEs, is making those pieces fit together and allowing us to build the knowledge, skills, and common philosophy to move forward collectively with coherence," said Moore.
"The pressure on IHEs to change how they prepare teachers to teach reading is going to come from the districts. And now that there's coherence across the educational cascade, I think that's when we'll really see the impact on students," offered Moore.
So what has made efforts to improve literacy outcomes for all children work in Youngstown? According to DiPillo, Cripe, Italiano, Moore, Miller, Malkovits, and Walker, it's bringing the right people to the table, it's having a common mission and common goals, it's intentional planning with frequent revisions to the plan based on monitoring progress, it's detailing partner roles and responsibilities, and it's having patience and the willingness to stick with it over time. "It's when we all work together," said Miller.
Note: The photographs shown on pages 2, 3, and 6 were taken during PD sessions offered by Denise Malkovits, SSTR5, to YSU students.
References
Ohio Department of Education (2020). Ohio's Plan to Raise Literacy Achievement. Retrievable from https://education.ohio.gov/getattachment/Topics/Learning-in-Ohio/Literacy/Ohios-Plan-to-Raise-Literacy-Achievement.pdf.aspx?lang=en-US.
Ohio Department of Education. (2018). Each child, our future. Ohio's strategic plan for education (2019-2024). Retrievable from http://education.ohio.gov/getattachment/About/Ohios-Strategic-Plan-for-Education/Final-Strategic-Plan-Board-Approved.pdf.aspx?lang=en-US.
Additional Reading
For additional context on YCSD and efforts to build university-district partnerships to improve literacy outcomes for all children, go to the Ohio Leadership Advisory Council (OLAC) website and click on these issues of Cornerstone Connections:
Following the Science: Ohio Higher Education - District Partnerships Build the Capacity for Improved Literacy Outcomes Across the P20 Continuum
Moving an Entire System: Youngstown City School District's Work to Improve Learning for Every Child Reflects Strong Commitment to Equity, Collective Practice
For More Information, contact:
Kristen Italiano, MEd, Director, Project PASS, and Literacy Faculty, Youngstown State University, at klitaliano01@ysu.edu or by phone at 330.941.3472.
Michele Moore, MEd, Director, State Support Team Region 5, at michele.moore@sstr5.org or by phone at 330.533.8809.
Jennifer M. Walker, MS, Adolescent Literacy Specialist, ESC of Eastern Ohio, at j.walker@esceasternohio.org or by phone at 330.533.8755.
For more information about visit the Project PASS website.
For more information about Ohio's work to support improved literacy outcomes, contact Melissa M. Weber-Mayrer, PhD, Director, Office of Approaches to Teaching and Professional Learning, Ohio Department of Education.
For more information about resources to support districts, contact OLAC Co-directors Jim Gay, PhD or Karel Oxley.