It's Official… On-Demand Access to Our Learning Session Content is Now Available
---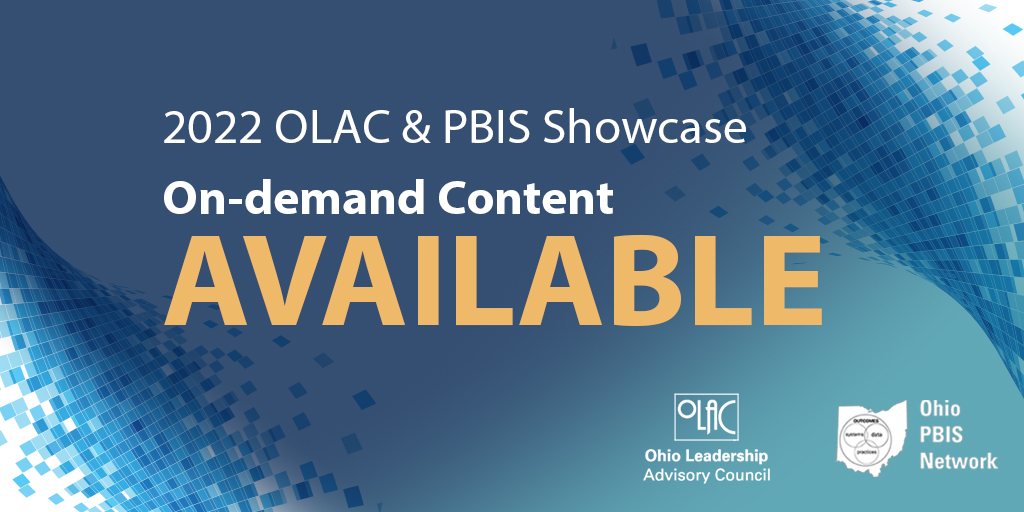 We are excited to share access with you to our on-demand learning session content for the 2022 OLAC/PBIS Showcase. Click here to access.
From now through December 5, we encourage you to watch the pre-recorded learning sessions that interest you, and then join us on December 6 to engage with those presentation teams in real time. To view their live Q&A session times, check out the Daily Schedule.
We also hope you will join us for our three live keynotes and the student panel on December 6.
Remember, all on-demand content will be available through January 16 and certificates for all completed courses will be emailed to you within 30 days.
Not Registered?
With only one week to go until the LIVE 2022 OLAC and PBIS Showcase, there is still time to get registered and plan your personalized schedule.
While we would love to have you join us on December 6, we know that your time is valuable and limited. But don't let that stop you from being able to access free, high-quality professional learning from national experts and Ohio-led teams.
5 Easy Next Steps
Register. Register yourself and encourage others to register for this FREE professional learning event.
Create your personalized schedule. Go to 'Course Selection' and review session options. Select your sessions and add them to your schedule by clicking the "Join Now" button, then the "Enroll Now" button.
Watch your pre-recorded sessions. From November 28-December 5, go to "My Selected Courses" to watch your selected sessions.
Participate in live event on December 6. Join us on December 6 to watch the live keynote sessions and student panel and participate in live Q&A with the presentation teams of the sessions you watched.
Earn contact hours. Take advantage of all on-demand content through January 16. Certificates for all completed courses will be emailed to you within 30 days.
---
3 Dynamic Keynotes & 1 Student Panel—LIVE
Leading Change for School and System Success
Michael Fullan, Co-Director, New Pedagogies for Deep Learning, LIVE from 9–10 a.m.
Despite some of the challenges facing our educational system, there are many promising examples of breakthrough successes that involve whole systems. These new developments focus on global competencies, new pedagogies, and the transformation of school and district culture. These developments are based on what Fullan calls the human paradigm and are produced through the joint determination of leaders and implementers—teachers, students, and community—working together. Learn more about case examples of successes in action.
---
We Can Do This! Behavior, Academic Gaps, and How to Get Back to School That Works
Polly Bath, Behavior Trainer/Consultant, LIVE from 11 a.m.–12 p.m.
During the last two and a half challenging years, the typical school day was everything BUT typical. Skills have been lost, behaviors have accelerated, and we'd all like to know where our confidence has gone. We are exhausted. However, there are behaviors to deal with and academic gaps to close. Returning to normal has turned out to be daunting. Polly Bath will breathe life and energy into the future of our classrooms by helping us understand why behaviors have escalated and why academic gaps now exist. And she will answer the call of, "What are we going to do about this?"
Student Panel: From Their Perspectives, LIVE from 12:30–1:30 p.m.
---
ALL in for Districtwide Support for Evidence-based Practices
Kim St. Martin, Director, Michigan Multi-Tiered System of Support Technical Assistance Center, LIVE from 2:30–3:30 p.m.
Supporting educators and leaders to effectively use, sustain, and scale-up evidence-based practices requires district leaders to attend to the components of a district implementation infrastructure. Explore the types of processes and procedures districts should have for district-wide implementation, including processes to review and select evidence-based practices, identify and remove barriers, and align similar evidence-based practices. The highlights of implementation research will also be shared and how to engage vertical and horizontal teams to distribute the leadership to assist in using evidence-based practices.
Questions?
Please review the FAQ section before attending the Showcase. If you still have questions, please email odeevents@esacertified.com.