Leadership: Three Keys for Maximizing Impact
---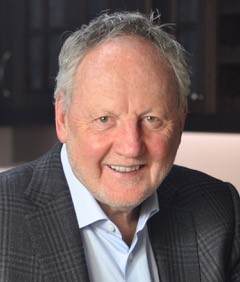 Guest blog by: Michael Fullan, Professor Emeritus, OISE/University of Toronto
All of our insights about leadership come from close work with school systems. In the new edition of The Principal 2.0 (Fullan, Feb. 2023), I focus on three interrelated qualities that enable leaders to engage in successful change endeavours at the local and system levels. The three keys for maximizing impact are captured in Figure 1.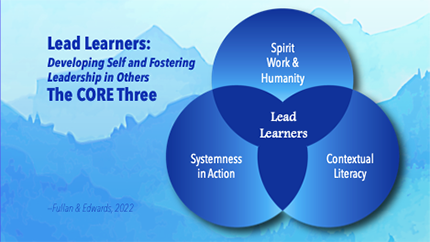 First and overall, is what I call 'Spirt Work'—a concept that we developed in a recent book Spirit Work and the Science of Collaboration (Fullan & Edwards, 2022). In that book, Mark Edwards, former Superintendent of Mooresville, NC, and I, identified seven districts across the U.S. that were particularly successful under the complex conditions of the last three years. Upon examining them closely, we found that the leaders evidenced a deep care for students, which was exemplified in all their actions day after day. They fostered this care, which we called 'spirit work,' on a daily basis as it came to characterize the values of the entire district whether it be a system of 30 schools or 200 schools. Our work is able to identify the nature of spirt work in action in a variety of situations (large and small), and how to generate it across the system. In other words, how do complex change processes become embedded within a system.
Second, in the spirit work and elsewhere, we developed a powerful new concept called 'contextual literacy.' Contextual literacy consists of deep knowledge about the culture of the organization in which leaders work. To be effective, leaders must come to acquire knowledge about the system that they lead, which I would call 'empathy for context.' Effective change requires knowledge and rapport relative to the system in which you work. To put it one way, if a leader changes jobs, they become automatically de-skilled relative to the new situation. More fundamentally, all of us became de-skilled to a certain extent because of the pandemic. The context has changed so dramatically that all of us are less certain and equipped to deal with the new, never-before encountered situation. We have to learn anew.
Third, we have found that all leaders must be concerned about the dynamics of the 'whole system'—local, regional, and state. There are various ways in which leaders at all levels can become aware of the dynamics at each level and how they can position themselves accordingly.
Tying this together is the concept of 'lead leader.' The latter has two dimensions. One consists of 'role modelling' what it means to be a learner. To teach leadership through exemplifying effective behaviors. The other dimension is to foster such leadership in others so that more leaders are generated. To put it one way, at the end of their term (3, 5, 10 years, or whatever) effective leaders leave behind other leaders who can carry on effectively, and innovatively, after the original leaders depart.
Hear more about this work and examples of the Three Keys in action in my live keynote presentation at the 2022 OLAC/PBIS Showcase on December 6, 2022.