Reimagining Education for All: Anything is Possible
---
Guest blog by: Anthony Coy-Gonzalez, 2021 Ohio Teacher of the Year & Teacher, Ohio School for the Deaf
Summer has come and gone. Many hoped the return to school would be one with a bit more normalcy. In a year when the only constant was the rising and the setting of the sun, we grieved and continue to grieve loss in many forms. The loss of normal, however, was one that the field of education desperately needed. Students don't fit into historical "norms" and need to be fully embraced as unique individuals in every capacity. The pandemic didn't invent the inequity our students face, but shined a light on those barriers and the work needed ahead.
Over the last 18 months, we've witnessed the strength of communities, families, and schools coming together in powerful ways. We've traded in normal for responsive. We've begun the work of reimagining what education could look like for all. In this time, despite great adversity, we were resilient and charged through, knowing that moving forward was the only option.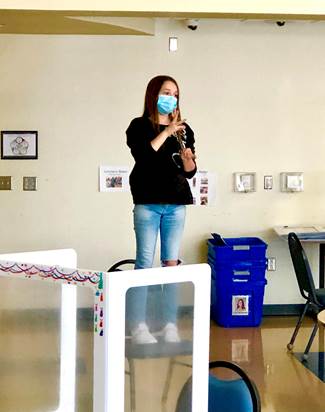 Daisaku Ikeda's words ring true today, "Adversity gives birth to greatness. The greater the challenges and difficulties we face, the greater opportunity we have to grow and develop as people." The leadership capacity in and around our schools has exploded during this crisis, creating a deep well of experience and potential to face the challenges ahead. It has brought back some of those early career dreams we had of changing the world, of questioning what was possible, and of resting on the truth that, in reimagining education for all, anything is possible.
Some of our greatest leaders are the young people who sit in our classrooms. This story of being responsive, reimagined, and resilient is courtesy of Emily, my former 5th grade student. When Emily first came to class, she was one of the shyest students I had ever met. She was content to sit back in class, hand firmly grounded on her desk and never mistakenly in the air. Throughout the year, she slowly warmed up to sharing with the class, and eventually tolerated a two-minute presentation from the board with some encouragement.
As our class walked the hall, she firmly said, "I will never speak to middle schoolers!" embarrassed, nearly to tears, anytime we passed one. This year, she and classmates reimagined our "5th grade charity business" project to offer socially distanced sales. The contraption they made was impressive. Money in one tube, products in the other, raising money for the animal shelter, food for neighbors in need, and our school library. On the day of the class-to-class sale, her worst fears had been realized:
Her partner, who had agreed to take on middle school, was absent.
The middle school lunch schedule changed, and they were all in the cafeteria together.
With American Sign Language (ASL) being a visual language, to get the attention of students, she had to stand on a chair and present to a cafeteria full of middle schoolers.
Do you know what she did? She stepped up with a courage from within and raised $200 for charity. This is why we do what we do—to help prepare our students to achieve greatness when faced with adversity, to reach their fullest potential, to help them see the power they have within them to reach their dreams (or nightmares in this case).
With Emily's inspiration, adversity in the road ahead, and limitless possibility, let's choose greatness. Choose to be the leader you were born to be, the leader Ohio's students need you to be, the leader making a difference for each child and our future together. Thank you for the work you do, and I wish you a great school year.
*Student name and photo shared with parent and student consent.