2020 OLAC/PBIS Showcase
---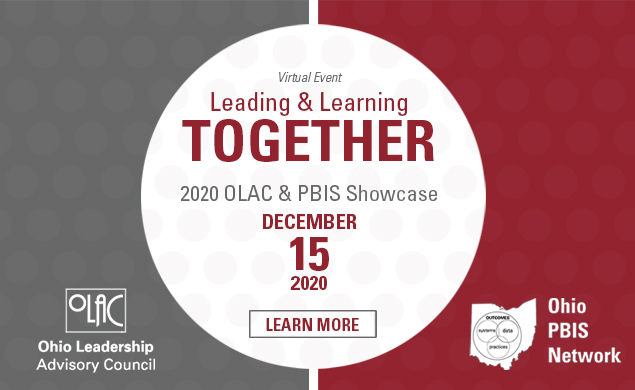 For more than 10 years, the Ohio Leadership Advisory Council has hosted the OLAC Action Forum—an annual event designed to bring hundreds of Ohio superintendents, principals, teachers, and others together to share stories about how district and building leadership teams and teacher-based teams are working together to impact all learners.
Since 2015, the Ohio Department of Education and the Ohio PBIS Network have hosted the Positive Behavioral Interventions & Supports (PBIS) Showcase, an annual event focused on showcasing Ohio's schools implementing PBIS with high fidelity. This event brings together hundreds of Ohio principals, teachers, counselors, and others to network and share best practices around PBIS implementation to ensure safe and supportive school environments.
With a shared vision for building the capacity of those who lead, teach, and serve students in Ohio's schools and beyond, we are excited to announce a partnership between OLAC and the Ohio PBIS Network to host a joint event this year. This one-day, virtual conference will combine the best of the OLAC Action Forum and the Ohio PBIS Showcase.
What You Can Expect
Like our past events, you can expect high quality content from experts and practitioners from around the state and across the U.S., as well as opportunities to network and collaborate—the only change will be that it will be from the comfort of your own home or office.
This year's theme, Leading & Learning Together, will include sessions aligned around three strands:
Leading, learning, and connecting in remote learning environments
Supporting the whole child, including students' social emotional well-being
Ensuring equitable learning opportunities
Here's what you can expect:
20 sessions to choose from
Keynote speakers—Dr. Doug Reeves and Dr. Kent McIntosh
Networking and collaboration opportunities via virtual 'breakout' rooms
Access to all recorded sessions and materials following the event
Opportunity to earn continuing education credit
We Still Have Details to Work Out
While there are still details to work out, know that you can count on us to continue to deliver a valuable and engaging learning experience—even in a virtual environment.
Over the coming weeks, we'll be sharing more information on our websites and social media channels. In the meantime, save the date and plan to join us on December 15.
Download
---
This video is being reviewed for audio description.
---
What is Audio Description (AD)?
When AD is enabled, descriptive language narrates what is on the screen. To learn more, visit our accessibility webpage.
---
Video Player Help
Brightcove Video Hosting: This website uses Brightcove, a video hosting company, to serve video content. If you are having difficulty viewing videos on this site, it may mean that your location (e.g. school district, organization) is blocking or filtering the Brightcove website. Please contact your IT personell to resolve this issue.
Flash Issues: Depending on your browser version, a Flash video player may be displayed. If you are having trouble viewing videos on one of our sites, you can try installing the latest version of Flash.
Accessibility: We strive to make this website accessible for all users, including people with disabilities. We test and modify this website for optimal usability. If you have any accessibility questions or find any pages on our website that pose accessibility barriers, please contact Hal Hixson at hal_hixson@ocali.org.