What You Missed at the 2018 Action Forum
---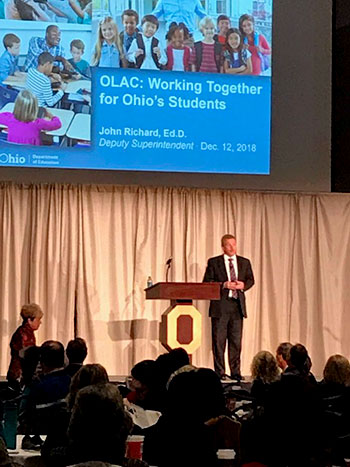 On December 12, nearly 700 Ohio education leaders gathered for the 2018 OLAC Action Forum in Columbus to learn, network, and collaborate around the use and impact of the OLAC tools and resources to strengthen leadership practices.
The Forum, which was held in partnership with the Ohio Department of Education (ODE) and the Buckeye Association of School Administrators (BASA), featured a general session on Moving Teams Forward by Dr. Brandon Doubek, a luncheon session on the How Do Schools Get Better by Dr. Brian McNulty, and nine learning sessions from Ohio superintendents, principals, teachers, and others. Sessions ranged from equity in the classroom, the 4 C's of school improvement, teacher-based team coaches, teaching the whole child, and achieving more effective teacher-based teams and building leadership teams.
During the Forum each year, OLAC also recognizes one Ohio school district for their outstanding leadership around the implementation of the practices in the Ohio Leadership Framework, use of OLAC tools for district and individual professional development, and support for regional/state OLAC professional development opportunities. The 2018 OLAC Outstanding District Award was presented to Bowling Green City Schools.
OLAC also announced the launch of several new resources, including:
If you missed the Acton Forum, you can check out the learning session presentations and resources here. You can also recap the Twitter conversations on social media by searching #OLAC.
Save the Date
Mark your calendar for next year's Action Forum: December 10, 2019 at the Ohio Union at The Ohio State University!