Newly Updated Curriculum Module Now Available
---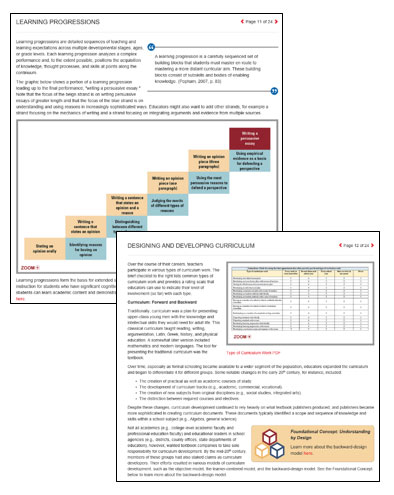 Put simply, curriculum specifies what to teach— traditionally conceptualized as "the knowledge of most worth." The Ohio Department of Education (ODE) defines curriculum broadly as the way content is designed and delivered. It includes the structure, organization, balance, and presentation of expected or recommended study topics that address content standards and meet local expectations.
To support Ohio educators' efforts to create, adapt, adopt, or modify curriculum, the Ohio Leadership Advisory Council (OLAC) recently released the newly updated Curriculum Module.
With an emphasis on the implementation of a standards-aligned, district-wide curriculum that supports high-quality instruction and deep student learning, this module focuses on effective practices and addresses the core question of what skills and concepts do students need to master.
This module highlights the following topics:
Standards—what they are and how to use them
Learning progressions
High expectations and depth of knowledge
Extended learning standards
Textbooks as curriculum guides
Curriculum development, especially backwards design
With new supporting resources, discussion questions, activities, and video examples, this completely revamped module will help guide your curriculum practices. The module also aligns with the Ohio Leadership Development Framework, Area 3: Instruction and the Learning Process, and Stages 1, 2, & 3 of the Ohio Improvement Process.
OLAC is proud to offer more than 20 online learning modules on a variety of topics, allowing educators at all levels to experience anytime, anywhere professional learning.
Looking for Other Professional Learning Resources?
OLAC offers a variety of free leadership resources for administrators, teachers, and teams, including online modules, webinars, and a video library. Personalize your professional learning experience by searching for specific topics of interest to you or your staff. Start or continue your professional learning journey by checking out OLAC's:
Need Credit?
Don't forget that you can download certificates of completion from all OLAC modules and webinars to use for continuing education credits with your LPDC.