Newly Updated Assessment Module Now Available
---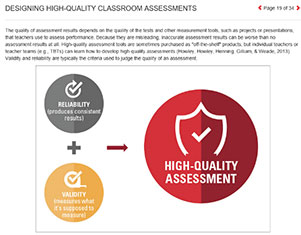 Looking to dive deeper into educational assessment— what it is, how it's used, and why it's important? The Ohio Leadership Advisory Council (OLAC) is proud to announce the release of the newly updated Assessment Module to address these and other assessment-related questions.
Explore the formative and summative approaches to assessment, measurement of adult indicators, and evaluation of student performance, and dive deeper into system-wide evaluation, district and school assessment, and classroom assessment. This module also offers many new links to in-depth resources about implementation fidelity and rubrics.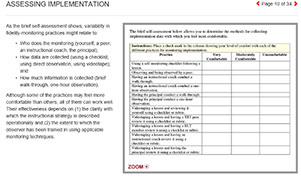 With new supporting resources, checklists, case studies, and video examples, this completely revamped module will help you understand the difference between assessment 'for' learning and the assessment 'of' learning, as well as focus on assessment strategies at multiple levels of the education system. The module also aligns with the Ohio Leadership Development Framework, Area 3: Instruction and the Learning Process, and the Ohio Improvement Process.
OLAC is proud to offer more than 20 online learning modules on a variety of topics, allowing educators at all levels to experience anytime, anywhere professional learning.
Looking for Other Professional Learning Resources?
OLAC offers a variety of free leadership resources for administrators, teachers, and teams, including online modules, webinars, and a video library. Personalize your professional learning experience by searching for specific topics of interest to you or your staff. Start or continue your professional learning journey by checking out OLAC's:
Need Credit?
Don't forget that you can download certificates of completion from all OLAC modules and webinars to use for continuing education credits with your LPDC.