Ensuring Everyone Learns
---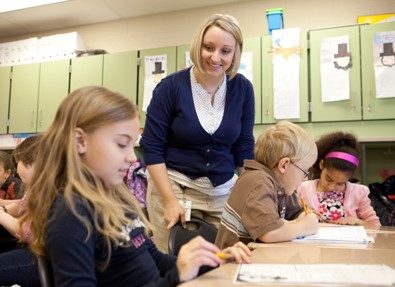 It goes without saying that as educators, our goal is to help every student learn. No matter their background. No matter where they are starting from. We want every student to learn and make progress.
Diversity in schools is often thought of as racial diversity. However, there are a variety of designations that can be applied to students characterizing them as diverse learners, including special education, gifted, economically disadvantaged, and English language learner.
While these designations may help educators identify that a student has unique learning needs, they do not provide information about how to meet the unique learning needs of particular students.
Our recently updated module, Diversity: Ensuring Everyone Learns, outlines strategies educators can use to proactively design instructional strategies that hold high expectations for all students and help all students learn. This module aligns with Ohio' Leadership Framework and the Ohio Improvement Process, and educators can receive a certificate of completion to use for credit.
We hope you check it out!
Here are a few other highlights from OLAC this fall:
---
Real Leaders, Real Results: 2016 OLAC Action Forum Registration Now Open
This year's theme is Real Leaders, Real Results, and will highlight how real educators are using unique tools, strategies, and OLAC resources to achieve results in their districts schools, and classrooms.
The Action Forum sells out each year, so make sure to register your team early. The event will be held Tuesday, Dec. 13 from 8 a.m. to 3 p.m. at a new venue - the Ohio Union at The Ohio State University.
Don't forget, nominations for the 2016 Outstanding District Award are due Oct. 15! Nominate a district you know who is doing an excellent job using OLAC tools to be recognized at the Action Forum.
---
Regional Meetings
Are you interested in becoming a certified OLAC facilitator? OLAC, in partnership with the Buckeye Association of School Administrators (BASA) is hosting seven regional training sessions where participants will learn about OLAC tools and resources, the Ohio Improvement Process (OIP), leadership teams and how OLAC resources can be used in districts, schools and classrooms.
Trainings will be held:
Oct. 31, State Support Team (SST) Region 16, Athens-Meigs ESC
Nov. 10, SST Region 6, Findlay Inn and Conference Center
Nov. 11, SST Region 13, Hamilton County ESC
Nov. 18, SST Region 5, Mahoning County ESC
Nov. 28, SST Region 7, Richland Government Center
Nov. 29, SST Region 3, ESC of Cuyahoga County
Dec. 8, SST Region 11, Central Ohio ESC
The trainings are free and include lunch. To register, download the registration flyer and email to Julie Turner at turner@basa-ohio.org.
---
Voices from the Field
Throughout the 2016-2017 school year, OLAC will be sharing the stories of educators across Ohio who are using OLAC tools in innovative ways to achieve real results for students. We're excited to showcase "voices from the field" in the coming months through our blog, e-newsletters, and social media.
If you have experienced results using OLAC tools and would like to be featured, please contact OLAC co-directors Jim Gay and Don Washburn at jimgay@basa-ohio.org and don.washburn@scoca.org.