Need to Develop a Professional Growth Plan? OLAC's Evaluation Crosswalk Can Help
---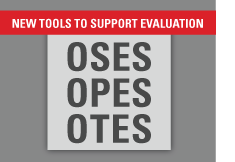 Ohio's new evaluation systems offer the opportunity for more consistent and cohesive approach to professional growth and improvement. However, creating professional growth plans and managing the professional growth process can be cumbersome tasks without the right tools.
That's why the Evaluation Crosswalk is one of the most frequently accessed tools on the OLAC website. The crosswalks are designed to help superintendents, principals, and teachers plan for professional development. The crosswalks align the superintendent, principal, and teacher standards to guiding questions, relevant OLAC modules, and other reputable learning resources that can be used to enrich performance and deepen engagement in school improvement processes.
These tools can be used to complete professional growth plans for the Ohio Superintendent Evaluation System (OSES), Ohio Principal Evaluation System (OPES), or Ohio Teacher Evaluation System (OTES). The crosswalks even provide a Professional Development Plan PDF, including a signature page, which can be downloaded for use with evaluations.
You'll need an account to access OLAC's Online Learning Dashboard, which is where you can find the Evaluation Crosswalks. To create an account, click the "Create an Account" link at the top of this page. You can visit the Evaluation Crosswalks directly. The crosswalks can help you build your skills, as well as increase the collective capacity of your teams.
Questions or comments? Please contact us. Many of the improvements on the OLAC site are a result of your input.